{service.name}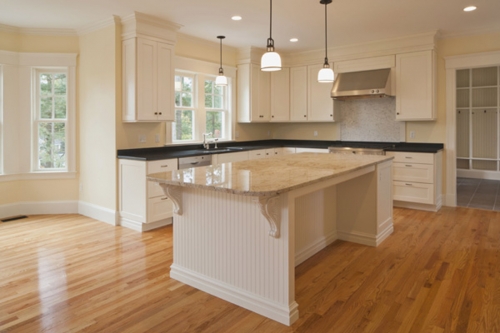 Kitchen and Bath Design
Our Kitchen and Bath Design departments offer three lines of MasterBrand Cabinets - Kemper Echo, Kemper, and Decorá. Each of the three cabinetry lines offers a wide variety of woods and door styles to choose from, an extensive palette of finishes, and unique accents to personalize your cabinets. Each line is backed by an exclusive Lifetime Limited Warranty.
The distinctive Kemper cabinetry line blends all the precision of modern engineering with the enduring elegance of traditional design. The result is cabinetry that enchants and enriches. Behind the beautiful exterior of the cabinets is a world of thoughtful organization features designed to make life easier. The interior of the cabinets offers the benefits of flexibility, accessibility and versatility. You can rest assured that your Kemper cabinetry is built to last. They are proud to wear the Kitchen Cabinet Manufacturers of America (KCMA) certification seal. Products bearing this seal are recognized in the marketplace as a quality product able to perform after a rigorous battery of tests simulating years of typical household use.
What separates a Decorá Cabinetry kitchen from the rest is the exquisite detail and superior service. Every Decorá Cabinetry semi-custom cabinet is hand crafted in Jasper, Indiana, an American woodworking and furniture-making hub since German furniture makers founded the town in the 1800s. Their knowledge has been handed down from generation to generation, and can still be seen in every cabinet they make today. When you order a Decorá Cabinetry kitchen, it is constructed from scratch, to your exacting specifications, by some of the most experienced cabinetmakers in the nation. Special orders are their specialty, and it shows in the impeccable functionality, fit and fashion of their cabinets.
Looking to redo your kitchen? Or maybe you are just changing a countertop to freshen up the look a little? How about more storage space in the bathroom? Do you have a blank wall in the family room that could use an entertainment center?
At 41 LUMBER we have the answers. Our Kitchen Specialists have years of experience and training. Combine this expertise with the breadth of products that Kemper Echo, Kemper, and Decorá have to offer and 41 LUMBER will meet your expectations no matter what your budget. Your project is not just another kitchen or bath to us.
Our Kitchen Specialists combine experience and knowledge with a computerized drawing program to create colored drawings and plans that let you visualize exactly how your project will look. See a change you want to make? No problem. We can help you through the process. Stop in and see for yourself what 41 LUMBER can do for you.
Take home a Project Planner to help you organize your thoughts and then take some time with any of our Kitchen Specialists to turn your wishes into reality! You can also visit our online Kitchen and Bath Project Center to see the many products available to help with your projects.
We are constantly adding new specials to our site. Be sure to check back often!
Sign up for our Email List
Stay updated with all our latest posts, products and offers! Just enter your information below.